Tiffany Carter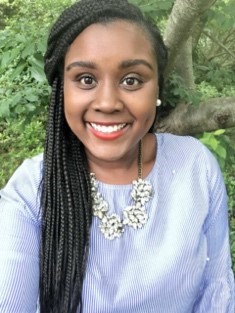 Community House Middle School, Mecklenburg Co.
Presentation: The Virtual Science/STEM Middle School Classroom
Description: Never fear, virtual science resources are here! Have you been racking your brain trying to figure out how to include virtual labs, discrepant events, and project-based learning into your remote instruction? If so, look no further. This professional development session will introduce multiple learning management platforms that will increase engagement, allow students to inquire about the natural world, and encourage collaboration among students. We will discuss best practices to address students' misconceptions and share resources to deliver high-quality science instruction efficiently and effectively in the virtual environment.
Bio: Tiffany Carter is a seventh-grade science teacher at Community House Middle School in Charlotte, North Carolina. She has been teaching for five years and was recognized as Charlotte Mecklenburg School's Southwest Learning Community Teacher of the Year during the 2019-2020 school year. She was also awarded the Charlotte Area Science Network Excellence in Education Award from the University of North Carolina at Charlotte in 2019. Tiffany is passionate about science and technology. She organizes and facilitates her school's optional science and engineering fair and recruits upwards of 200 student researchers each year. Her students have gone on to win regional and state competitions and have been recognized for their exemplary research in science, technology, engineering, and math. Tiffany also writes literacy seminars to engage students in the process of thoughtful analysis and academic discourse rooted in scientific texts specifically designed for the middle school classroom. Tiffany graduated from Appalachian State University with a bachelor's degree in Middle Grades Science education and is pursuing her Masters of School Administration and National Board for Professional Teaching Standards certification in Young Adolescent Science Instruction.