Professor Orrin Pilkey and Mary Edna Fraser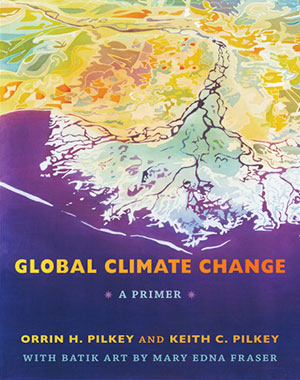 Orrin H. Pilkey is the James B. Duke Professor Emeritus of Earth and Ocean Science and the Nicholas School of Environment at Duke University. Currently, Orrin Pilkey is writing books and articles and speaking on the subject of conservation of the world's beaches and barrier islands in the face of sea-level rise, shoreline stabilization, and over-development of the coast. Pilkey's research centers on both basic and applied coastal geology.
Mary Edna Fraser is a batik artist who highlights environmental concerns and climate change in her art; she employs ancient fabric-dying techniques, photography, and conservation science in her work. Her talent has been recognized worldwide, and her creations have been displayed widely: she was the first woman to have a solo exhibition at the Smithsonian National Air and Space Museum. They have collaborated to produce the books Global Climate Change: A Primer and A Celebration of the Worlds Barrier Island. The scientist and artist continue to travel with their Our Expanding Oceans exhibit and Sea Level Rise lecture.