Dr. Laura Bottomley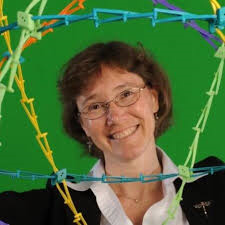 Dr. Laura Bottomley directs The Engineering Place for K-20 Outreach at North Carolina State University. She is also a Teaching Associate Professor in the Colleges of Engineering and Education at NC State University and the Director of Women in Engineering. She has taught every grade K through graduate school and has reached close to 200,000 students. She has received awards from the White House twice for her work.
In her role as director of The Engineering Place at NC State, Dr. Bottomley and her colleagues reach more than 20,000 students, teachers and parents each year with programs including summer engineering camps for K-12 students, programs that send undergraduates and graduate students into schools to work with K-12 students, and professional development and classroom support for K-12 teachers who want to introduce engineering concepts to their students through integrated STEM. She and her colleagues lead teacher workshops in STEM around the State.
In addition to her roles at the University, Dr. Bottomley has taught fifth grade science as a volunteer consultant, helped schools reinvent themselves as engineering magnet schools and acted as a consultant to the N.C. Dept. of Public Instruction and Wake County Public Schools. She served on a national team for the National Assessment of Educational Progress developing an assessment for engineering and technological literacy, worked with IEEE and the National Academy of Engineering on the Engineering Equity Extension Project and has served as a curriculum consultant on a National Science Foundation Gender Equity grant. She is also served on a committee at the National Academy of Engineering on Guiding the Implementation of Engineering in K-12 Education.
In 2009 Dr. Bottomley was selected for a Presidential Award for Excellence in Mathematics, Science and Engineering Mentoring by the White House Office of Science and Technology Policy and by the Educational Activities Board of the IEEE for an Informal Education Award. She was also inducted into the YWCA Academy of Women in 2008 for her contributions to eliminating racism and empowering women. In 2014 Dr. Bottomley was named a Fellow of the American Society of Engineering Educators and in 2015 a Fellow of IEEE.
Bottomley received her bachelor's and master's degrees in electrical engineering from Virginia Tech in 1984 and 1985, respectively. She received her Ph.D. in electrical engineering from NC State in 1992. She has previously worked at AT&T Bell Labs on ISDN standards and Duke University teaching classes and directing a lab in the electrical engineering department.
She was featured in an ad that launched during the 2016 Super Bowl, which can be found at:
and a second clip at: