Brad Rhew
District 5 Director - Brad Rhew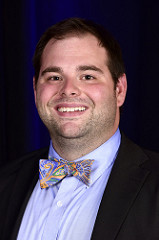 Biographical Information
Brad is the science lead teacher and STEM coach at Petree Elementary School in Winston-Salem. He received a BA in Middle Grades Science and Social Studies from UNCG and a Masters in STEM Education from NC State University and is currently working on his doctorate in curriculum and instruction through Gardner-Webb University. He has his National Board Certification and has been recognized as SMT K-8 STEM Teacher of the Year and is a Burroughs Wellcome Fund Career Award recipient.
Brad is currently serving as the District 5 Director for NCSTA and is part of the North Carolina Science Leadership Fellows Leadership team. He also serves as the chair for the Urban Science Education Advisory Board for NSTA. He works closely with his district science team to deliver professional development to teachers to help increase hands-on learning in science education. He currently serves on the Governor's Teachers Advisory Council.
Mission Statement
I believe solid science instruction should be provided for all students in North Carolina. Teachers should also have access to numerous opportunities of professional development throughout their career to grow as educators in science instruction. As the District 5 NSTA Director, I will continue work to provide a variety of opportunities for teachers to access quality resources and professional development. These professional growth opportunities will increase their knowledge of science content and pedagogy. I will work closely with the other district directors and board members to help build resources statewide for science educators to access. As the District 5 director, I will continue to advocate for hands-on, inquiry-based science instruction for grades K-college. It is important that we promote standards-based science instruction in all grade levels. I believe that when we provide teachers with the resources they need to teach our students, quality instruction will occur throughout our state. It is my mission as the District 5 director to build a district of science leaders ready to engage all learners in science instruction.