Robin Bulleri
District 5 Director
Nominee: Robin Bulleri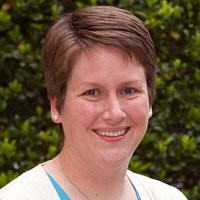 Biographical Information on Nominee
Robin is committed to providing quality science experiences for those enrolled in her classes and strongly endorses learner-centered, discovery-based instructional practices. She helps her students establish a strong foundation in science by implementing innovative lessons that incorporate technology, promote scientific inquiry, support student meta-cognition, and engage students in scientific writing. In recognition of her excellence in the classroom, Robin received the 2016 North Carolina Outstanding Biology Teacher Award from the National Association of Biology Teachers. With seventeen years of classroom experience, Robin has taught a wide range of courses, including Physical Science, Earth Science, Standard Biology, Honors Biology, Advanced Placement Biology, Advanced Placement Environmental Science. She has taught at Chapel Hill High School and is currently at Carrboro High School, where she serves as the Science Department Chair.
Not only is Robin committed to providing strong learning experiences for her students, she is very actively engaged in collaborative efforts with other educators. As a Kenan Fellow she interned at the National Evolutionary Synthesis Center. During this internship she helped to develop a research-based curriculum focusing on flora geographic range shifts and conducted teacher workshops that utilized these resources. Similarly, as a North Carolina Science Leadership Association (NCSLA) Science Leadership Fellow, she worked with teachers throughout North Carolina fostering science education, professionalism, and leadership. Robin's commitment to work with other educators to promote excellence in science teaching is evidenced by her participation in numerous professional development initiatives. These include:
Attending the BSCS and NABT sponsored AP Biology Leadership Academy, 2013-2015;
Guiding discussion groups and making presentations that addressed the use of conceptual flow graphs and formative assessments at the 2017-2018 Biology Regional Teachers Academy in Bradenton, Florida;
Conducting, with NESCENT researchers and the North Carolina Museum of Natural Science, teacher workshops on evolution;
Serving for four years as an HHMI Bio-Interactive Ambassador and assisting science teachers statewide with lesson development using HHMI and BSCS resources.
Presenting at multiple National Science Teacher Association, National Association of Biology Teachers and North Carolina Science Teachers conferences and meetings.
Robin's willingness to work with other professionals is further evidenced by her service as the Professional Learning Community (PLC) Biology Leader in her home school. In this role Robin collaborates with other teachers to create lessons that are aligned with state and national standards, as well as develops classroom activities that promote student curiosity in science.
Robin attended Boston University and earned a Bachelor of Science in Science Education with a Biology minor and a Master of Education in Policy, Planning, and Administration. She holds a North Carolina Professional Educator's License II: Biology 9-12, Science 9-12, as well as certification through the National Board of Professional Teaching Standards in Adolescent and Young Adulthood/Science. She is an active member in the National Association of Biology Teachers and the North Carolina Science Teachers Association.

Mission Statement
As District 5 Director, I will work to increase membership and awareness of NCSTA and its initiatives within my district. I will strengthen professional communication and outreach efforts. I will expand networking opportunities and strive to build a community of professionals willing to share resources, ideas, and mutual support. I will use my experience and connections as a longtime North Carolina educator to improve professional development opportunities throughout my district.